You are here: Home >> Fire Victims >> Automobile & Truck Fire Victims
Automobile & Truck Fire Victims
THE AUTOMOBILE OR TRUCK FIRE ACTIONS YOU TAKE TODAY
MAY DETERMINE THE DOLLARS YOU RECEIVE WHEN THE CHECKS ARE WRITTEN.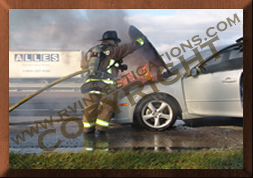 You have experienced a fire loss to your automobile or truck and now you need to be made whole. If you have insurance the insurance company will work out a settlement with you on the loss based upon your policy (if you and the insurance company cannot come to an agreement on the amount due you then you may want to explore the appraisal clause process. See certified appraisals). If you have an additional monetary loss that is not covered under an insurance policy, such as a building, personal effects, motorized vehicles, etc. then you need to seek a remedy, that being for you to conduct your own independent investigation to collect the dollar amount from the negligent party.
An insurance company will conduct a fire origin & cause investigation. This will hopefully find the negligent party so they can recover their loss. This procedure is handled through the subrogation department. So where does it leave the owner/insured?
The owner/insured is generally not entitled to the results of any insurance company fire investigation. If the finding of the
fire investigation does lead to litigation then the fire investigator can usually only represent one party. The insurance company paid for the investigation and they are looking to only recover their loss pursuant to the policy. If the owner/insured wants to recover a loss then they must have their own fire origin & cause investigator present at the investigation in order to represent their interest. If a claim is made to a manufacturer for a loss by the owner/insured one of the first request of a manufacturer will be "provide us with a certified fire origin & cause investigation report showing we are negligent". If you cannot provide evidence to substantiate your position, then you most likely have no case and no recourse. On the other hand the insurance company has their report and will attempt to collect and most likely will depending on the findings.
In order for an owner/insured to protect their interest the following procedure is recommended:
After the fire department has left, leave the automobile or truck in its present location if at all possible. Many times evidence is lost due to the movement of the vehicle. If it must be moved then tell the towing company in no uncertain terms that all debris, especially what has fallen beneath the vehicle, must be protected and preserved. If they fail to protect, then they may be responsible for the loss, especially if spoliation issues rise.
DO NOT TOUCH ANYTHING AROUND OR INSIDE THE FIRE DAMAGED AUTOMOBILE OR TRUCK AND MAKE IT CLEAR, NOBODY IS TO GO ANYWHERE NEAR THE FIRE DAMAGED AUTOMOBILE OR TRUCK. YOU OWN IT, AND YOU DECIDE WHAT HAPPENS TO IT UNTIL THERE IS A SETTLEMENT. If you make a claim then you must allow an insurance company representative to visually look at the fire damaged automobile or truck, but under no circumstances are they to disturb the condition of the automobile or truck.
Protect the fire damaged automobile and truck from the elements of the weather. The insurance company may or may not know to do this. Remember you own the fire damaged automobile or truck.
If you wish to proceed with collecting the total amount of loss less what the insurance company will pay under the policy then you must proceed in obtaining your own fire investigator.
Most fire investigators don't understand the complexity of a fire damaged automobile or truck. An automobile or truck fire expert is critical in you finding out the cause and you not just hearing "it's undeterminable" and you cannot recover your full loss.
Once you have your Certified Automobile or Truck Fire Origin & Cause Investigator he or she will be in charge of the investigation. A date and time will then be set to conduct the intrusive fire investigation and to legally notify all interested parties.
You may review our photo gallery of Certified Automobile and Truck Fire Origin & Cause Investigations, and please feel free to call us with any questions you may have. We are at your service to conduct a Certified Automobile or Truck Fire Origin & Cause Investigation anywhere throughout the United States and abroad. Remember you own the fire damaged automobile or truck and the decisions you make regarding its disposition may decide whether you are made whole or not.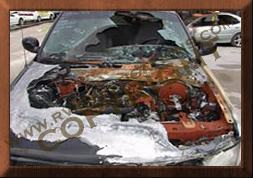 Frequently asked questions:
Will a fire department report work for me? Fire department reports provide information about when the fire was called in, who responded, how long it took to extinguish, and if the fire looks suspicious. Their reports generally do not provide definitive determination as to the automobile or truck fire origin & cause.
How long before there is a fire investigation? Usually a date and time is set at about 2-3 weeks.
Why does it take so long? All possible negligent parties must be legally notified.
Do I have to be present? No but it is a good idea as questions may arise as to the sequence of events leading up to the automobile or truck fire that only you can answer.
I have some personal items left in the fire damaged automobile or truck can I look to see if they are still good? It is not a good idea to enter a fire damaged automobile or truck unless you are accompanied by the lead fire investigator. The lead investigator will determine if you may enter.
Should I take photographs? Taking photographs can be helpful especially if they were taken during the fire.
What about my records? If you have your service records make a copy and offer them to the fire investigator. He or she should ask for them prior to any investigation.
Can I talk to my neighbor or a friend about the fire? It is best not to. Your discussion as to what you observed and what you did should be limited to the fire department, law enforcement and your Certified Automobile or Truck Fire Investigator.
How much does a Certified Automobile or Truck Fire Origin & Cause Investigation cost? It depends on the geographical location of the fire damaged automobile or truck. Contact our office for an estimate quote.
When the Certified Automobile or Truck Fire Origin & Cause Investigation is complete what happens to the collected and retained evidence? We have evidence storage at our facility.
Should I contact an attorney before the intrusive automobile or truck fire investigation? An attorney is generally a good idea but most clients wait to find out what caused the fire and who might be negligent first. That way the attorney will have what he or she needs to pursue your just compensation.